$6,998.00
Brand- Shop Outfitters
#UF-25H Universal Fabricator
Description
US and Canada Patent
DEMO model from this video on sale today for $1,000 off! Call in or use coupon code DEMO at check out. (719) 676-5555 Ask for Mark
---
The UF-25H Universal Fabricator is a complete Fab Shop in a box! This machine will make up to 180 degree bends in up to 1-1/4" schedule 40 pipe, up to 1-5/8" (O.D.) 10 gauge round tubing and up to 1-1/2″ 10 gauge square tubing. It will also form a wide variety of sizes of flats, solid squares and solid rounds. The #2011 Handy Bend, which comes standard with every Fabricator, can make bends on heavy material that much more expensive commercial press brakes cannot bend without doing some damage to their machine. The metal bending functions of the Fabricator run at just a fast enough enough speed to allow the operator more control over the various metal forming operations.
School Shop Classes across the Country are using the UF-25H to teach the future generation the art of metal craft.
Check out the photo gallery below of some amazing projects built using the UF-25H.
Here is what a few of our customers have to say on the UF-25H.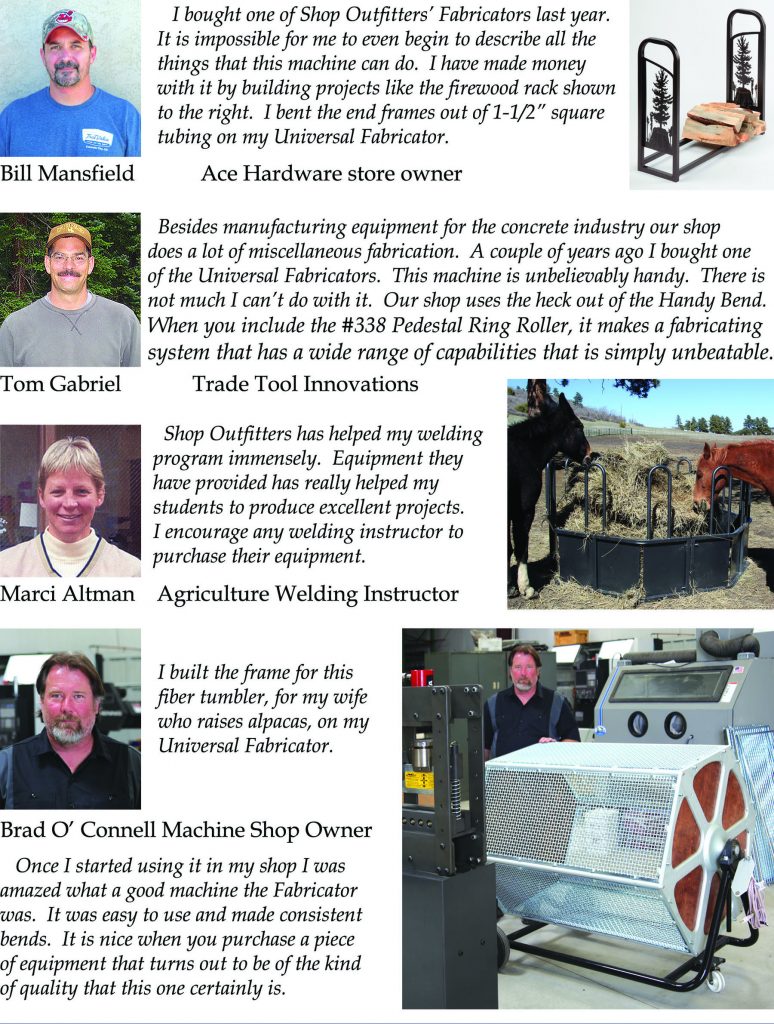 Specifications:
UF-25H (without optional tube dies) includes:
Pneumatic over Hydraulic foot operated pedal with release. Note: No electricity connected to this machine
5 ton hydraulic ram cylinder
Press frame with 25 ton hydraulic press cylinder & Handy Bend
Powder coated steel grey tube die storage cabinet with hydraulic control valve
1-1/4″ standard die
1-1/2″ standard die
1-3/4″ standard die
2″ standard die
2-1/2″ standard die
3″ standard die
Four 3/4″ pins
Sharp right angle bend attachment
Support pin
Stop block
Storage rack for tube dies
Bending arm & four 3/4″ pins and one 5/8″ pin
Slide lock bar and head assembly
Slide Lock
Lock-N-Stop Gauge
Instruction manual
Complete package includes:
Everything in the standard package plus
1/2″ Round tube dies Center-line Radius 1.5″ Bends .060 to .136 (16 to 10 gauge)
3/4″ Round tube die Center-line Radius 2.5″ Bends .060 to .136 (16 to 10 gauge)
1″ Round tube die Center-line Radius 4″ Bends .075 to .136 (14 to 10 gauge)
1-1/4″ Round tube die Center-line Radius 4″ Bends .075 to .136 (14 to 10 gauge)
1-1/2″ Round tube die Center-line Radius 4.5″ Bends .075 to .136 (14 to 10 gauge)
1-5/8″ Round tube die Center-line Radius 4.5″ Bends .075 to .136 (14 to 10 gauge)
1/2″ Square tube die Inside Radius 1.25″ Bends .060 to .136 (16 to 10 gauge)
3/4″ Square tube die Inside Radius 1.9375″ Bends .060 to .136 (16 to 10 gauge)
1″ Square tube die Inside Radius 3.5″ Bends .075 to .136 (14 to 10 gauge)
1-1/4″ Square tube die Inside Radius 3.375″ Bends .075 to .136 (14 to 10 gauge)
1-1/2″ Square tube die Inside Radius 3.750″ Bends .075 to .136 (14 to 10 gauge)
1″ Pipe die Center-line Radius 4″ Bends .133 (Schedule 40)
1-1/4″ Pipe die Center-line Radius 4.5″ Bends .133 (Schedule 40)
Handy Bend Press Brake:
With V-Block

1/8″ up to 10″
3/16″ up to 8″
1/4″ up to 4″

With V-Block Removed

5/16″ up to 10″
3/8″ up to 8″
1/2″ up to 4″
5/8″ up to 2″
Shipping weight, in crate: 960 LBS
Assembled including optional dies: 823 LBS
Additional information
| | |
| --- | --- |
| Weight | 654 lbs |
| Dimensions | 50 × 26 × 63 in |