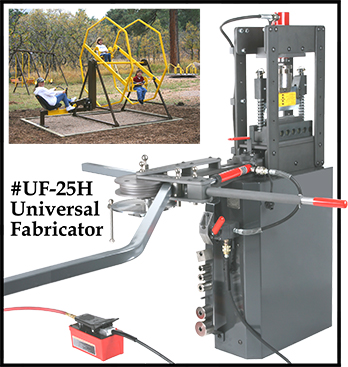 Available For Purchase Online!
As this short video states, this machine is without question one of the handiest pieces of equipment you can have in your shop. Order our free 24 page catalog and DVD video of the #UF-25H Universal Fabricator. This machine will make up to 180 degree bends in up to 1-1/4" schedule 40 pipe, up to 1-5/8" (O.D.) 10 gauge round tubing and up to 1-1/2″ 10 gauge square tubing. It will also form a wide variety of sizes of flats, solid squares and solid rounds. The #2011 Handy Bend, which comes standard with every Fabricator, can make bends on heavy material that much more expensive commercial press brakes cannot bend without doing some damage to their machine. Metal fabrication shops and especially schools with metal shops classes like the fact that the Fabricator runs off of an air compressor which almost all shops already have. This keeps them from having to deal with all the safety issues surrounding the use of metal forming equipment that runs off of electricity. The metal bending functions of the Fabricator run at a slow enough speed to allow the operator more control over the various metal forming operations. This is a big advantage over machines which make bends which are too fast for an operator to have a chance to react to. That little bit of extra control that the UF-25H Universal Fabricator has can help reduce the accidental over-bending of metal parts that may end up being scrapped. If you have a plasma cutting machine the Fabricator will add the necessary three dimensional capability to your shop that many metal projects will require. The artistic pickup headache rack shown below is just one such example. With so many pickup trucks in the country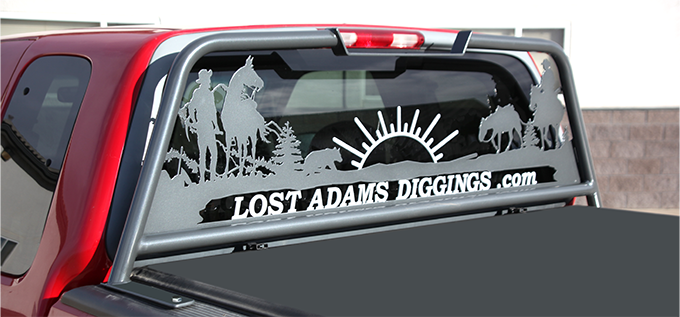 owning a UF-25H Universal Fabricator can help equip one to build a whole business around building accessories for pickups including ladder racks, brush guards and headache racks. Their is little question that many pickup owners love their trucks.

If you own a PlasmaCam cutting machine (examples of artwork avalible from them seen below) you can cut artwork available from them that will work in conjunction with our UF-25H Universal Fabricator.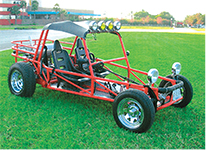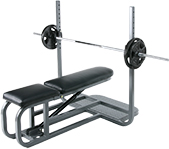 Pickup accessories are only one of many items that the UF-25H Universal Fabricator can play a key roll in. Their are virtually an unlimited number of metalworking projects that this machine is capable of forming the bent parts for.
Considering its wide range of metal forming capabilities the Fabricator takes up little space in a shop or even one's home garage. As you will see when you acquire your new UF-25H Universal Fabricator this machine is extremely heavy duty and its overall design is well thought out. It is being used in numerous school shop classes and general welding and fabrication shops all over the country. Some of the many schools, businesses and military bases using the Fabricator are listed on page 17 of our catalog.
Recently one industrial arts teacher, who had one of our Fabricators in his shop class, bought one from us after he retired for his garage. He told us that he never
found anything about it he did not like and considered it a first class metalworking machine.
For shop teachers who would like to have a Fabricator for his or her shop class the extensive free DVD demonstration video gives them a good tool to show to their
school board. It will do a better job of showing your board what the Fabricator is actually capable of that can be otherwise explained.
Like the very successful original iron worker that combined shearing and punching into one machine the UF-25H Universal Fabricator combines several metal forming operations into one handy space-saving machine.
The photo on the right shows the #UF-25H bending the end pieces for the park bench seen to the left.